The global market for gaming, including poker and casino gaming, is growing rapidly both online and at brick and mortar casinos, especially in emerging markets like Latin America. In general the global growth in popularity of poker can be attributed in part to the access of online gaming as well as the promotion on television of major poker events like the World Series of Poker (WSOP).
However, in Latin America there are a number of factors leading to a booming poker scene and home-grown professional poker players. These factors include the economy and a growing middle class, the expansion of broadband and mobile usage throughout the region, and the promotion of poker through various means.
Economy
Latin America is considered an emerging market in terms of the overall economy and in particular the behavior of consumers. For instance, Brazil has one of the fastest growing economies in the world. It is expected Latin America will have a combined GDP of $10,700 billion US by the year 2020, which is about nine percent (9%) of the global GDP. In 2012 the individual, or private consumption per head, was approximately $6,360 US. This number is expected to grow to $11,143 US by 2020 with a total market population of 640 million consumers.
Along with this growth are the changing demographics of the population including a growing workforce and the emergence of a robust middle class. The age groups of this growth trend will involve the 15 to 24 age group and the 25 to 35 age group. As this workforce grows so too will the Latin American middle class. As the purchasing power of this group increases it will be the telecom industry that will benefit through the proliferation of mobile technology.
Expansion of Broadband and Mobile Usage
Momentum in the broadband services market of Latin America has been due to Telecom operators realizing they stand to benefit to increased earnings by consumers. As a result, they have been investing in network coverage expansion. The domestic competition between these operators has been intense and is resulting in lower prices and bundled service offerings. All of this means the mobile market in Latin America is booming. Just as in other major or emerging global mobile markets, social gaming and social media dominates mobile usage.
Furthermore, as in the other regions, growth of mobile gaming includes that of mobile poker and casino gaming. The increased access and usage directly impacts the level of popularity, especially when considering playing poker online is a form of social gaming. The more players interact, share, and invite friends, the more people are drawn to playing. This constant exposure has allowed poker to enter the mainstream consciousness, making it possible to promote poker in Latin America as not only a place to play poker, but also a great region to visit and enjoy.
Promoting Poker in Latin America
The mainstream appeal of poker has made it possible for professional poker players to actually embrace their success and promote their celebrity, in turn promoting poker even more. There are a number of Latin American poker players who have been advancing through the ranks. In fact, in 2014 the Global Poker Index (GPI), which is a ranking of the live tournament poker players in the world as of the day it is published, joined with Card Player Latin America to use the ranking system developed by the GPI to begin determining and acknowledging the Card Player Latin America Player of the Year. This type of promotion is something that gives players an extra incentive to participate in more tournaments as well as encourage other players and fans to follow the progress of all players in the pursuit of the title.
This type of player promotion and the promotion world wide of Latin American events like the Latin American Poker Tour are shining a bright light on poker in the region as well as the great players coming out of Latin America. Some of the players making a splash on the world stage include Chilean Claudio Moya, Brazil's Felipe Ramos, and Mexico City born J.C. Alvarado.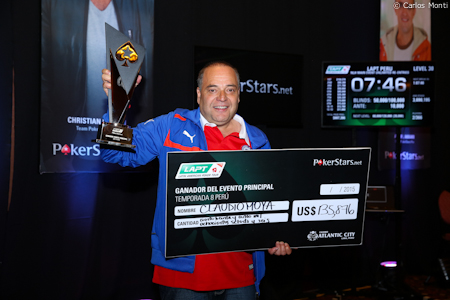 Claudio Moya is a fifty-one year old businessman from Chile and the newest champion of the Latin America Poker Tour (LAPT) Peru Main Event, winning $135,576. The LAPT has become recognized as one of the world's leading poker tours where Moya outlasted a three hundred and sixty-six player field. This win bettered Moya's fourteenth place win last year at the same event, making him the fifth Chilean player to win this title.
Felipe Ramos is another player who is becoming a face of Latin poker. Nicknamed "Mojave," he is especially well known for his online presence, though he is becoming a formidable figure at the World Series of Poker and other major poker tours and events. In fact, Mojave has live poker earnings nearing a million dollars in addition to his success at online. As a face for poker on the whole, and Latin American poker in particular, Ramos is full of personality, heart, and talent.
These are just a few of the Latin American faces who are now showing up on television screens and computers of millions of fans all over the world. Their celebrity status will continue to drive the popularity of poker in Latin American, creating a fan base from which more players will surely arise. As the fan base continues to grow so too will the interests of business and poker entities who see the Latin American market as a great region for poker.